In the world of big data, it is a difficult task to try and pare things down to a more digestible format.
The difficulty remains no matter how familiar you are with a dataset, and this process can be confusing for people who do not have much experience with data.
Facilitating and guiding the conversation around how to approach and present data is a major aspect of a data analyst role. To learn more about other skills effective data analysts have, check out our Careers in Data Analytics blog.
Effective communication makes the overall process more efficient. It also helps the customer get a better grasp of how they can leverage their data. Of course, this process can get messy and confusing since client dashboard requirements can often shift multiple times.
By keeping a few components in mind, communication can become more focused and efficient, regardless of which data visualization platform you are using.
These components are:
Data Overview and Access
Audience
Multiple Iterations
Report Objectives
Dimension, Measures, and Filters
Priorities & Timelines
Documentation
If you are a data analyst that is working with clients, this guide will help you to ensure that you effectively communicate with your audience.
Data Evaluation and Access:
Although it might seem obvious, the first place to start is by familiarizing yourself with the data and where it lives.
Ensure that you have the logins and access to relevant data sources and the necessary licenses to create and publish your visualizations.
Once you have access, it is a good idea to dive into the data and understand the structure of the tables. Things like how large the datasets are, data granularity, what fields and measures are in each table, and how the tables are related to each other are crucial pieces of the puzzle. Having this knowledge from the outset also allows for better client expectation management.
Take a company that sells furniture and classes its products into categories such as Tables and Chairs. These categories are then further broken down into Subcategories such as Office, Home Office, and Hotel. A member of the Sales team might wish to see data broken down by month and by Subcategories. On the surface, this might be a simple task.
Delving into the data might reveal that one table contains the Sales by Date and Category, and another table contains Sales by Subcategories with no clear way to join these two tables. Bringing this issue to light at the very beginning can expedite the data team's ability to find a solution and is a chance to keep the client involved in their data.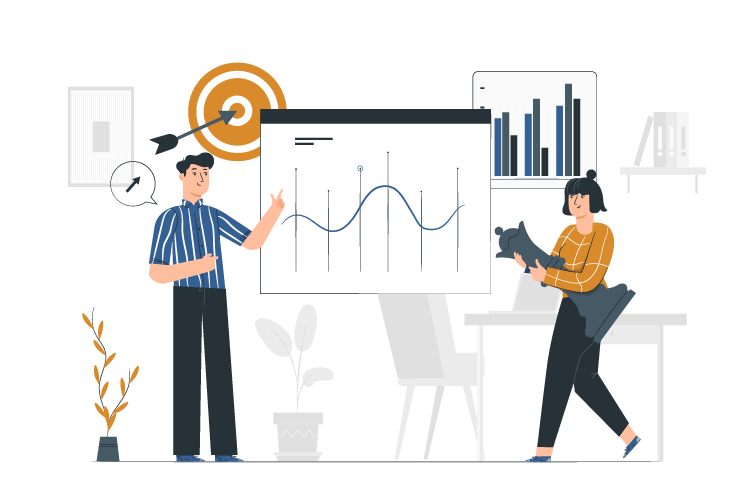 Audience
The next step in gathering dashboard requirements is understanding your audience. Gathering information such as their job title and the team they belong to allows for a better sense of their needs. It is also fundamental to have a sense of your user's analytical maturity as a more mature audience will allow for more complex analysis.
Is the report being used by a C-suite executive with a lot of demands on their time? If so, it is best if the report focuses on KPIs and provides a quick overview of how key aspects of the business are performing. Or is the audience a store manager that needs to delve into details and see where potential problem areas might be? If so, a dashboard might require a breakdown of each KPI to highlight sources of success and potential problems.
This component requires an understanding of the format and manner in which your audience will interact with the dashboards. Knowing whether the audience intends to download the information and use it as a static image or interact with it directly in Tableau will be principal in determining the functionalities and technical complexity of the reports.
Multiple Iterations
Like most pieces of work, a dashboard often requires more than one iteration. Naturally, this can be frustrating for both parties, especially if there is a time crunch. Establishing that creating a dashboard will require a few iterations keeps the process smooth, especially with multiple stakeholders.
Struggling with your analytics journey?
Let Iteration Insights get you on the right path, view our services to see how we can help you today.
Report Objective
After completing the preparation and laying the groundwork, it is time to start working more closely with the client. The first step is to establish the objective of a report and what question it is trying to answer. This step acts as the guide to every aspect of report building. Often, consultants rush through this step but taking the time to create a precise objective is critical.
The day-to-day use of the report, the key questions, and the KPIs used to measure success will be established here. Try to frame the objective of the dashboard in 2-3 key questions.
For instance, a store manager will use a Daily Overview Report to answer the following:
– Monitor Product Categories with the highest and lowest sales
– Profits compared to the same time frame in the previous year
– Impact of Sales and Discounts on profitability
Dimensions, Measures, and Filters
The dimensions and measures are determined based on the report objectives. This phase is also the time to discuss and establish any additional calculations and filters that the client might need to see. It is helpful to walk through the exact information a client needs to avoid missing details.
For example, a furniture company store manager might want to look at the average sales over the past eight weeks. However, if their store also holds a promotion every eight weeks, they might want to exclude the week with the highest sales from the overall average.
It is also helpful to go through all dimensions and measures individually as it allows the team to confirm that the required fields are available. If a client is not familiar with their database, they may be unaware that they are requesting an unavailable data field.
This stage is where the general data issues may come up. As mentioned in the previous example of the furniture company, you will notice that it is not immediately possible to create a dashboard with sales broken down by Date AND Subcategory as they live in different tables with no relationship.
Priorities & Timelines
Clients will often request multiple dashboards and reports at the same time. Once the objective is made clear, it is crucial to discuss their priority and outline expected deliverable dates are.
It is best to discuss the priorities of the reports after establishing the objectives and discovering unforeseeable roadblocks, as either of these might be a factor in shifting priorities for the dashboard.
Documentation
Once you have done all the hard work of establishing timelines and objectives, it is essential to document the agreed-upon tasks. These documents should be easily accessible to prevent further confusion that would lead to unnecessary back and forth. This accessibility will also give everyone a common point of reference.
Stay Up to Date with Our Latest Blogs
Subscribe to our mailing list to be notified when a new article is released.