Sections
What Is a Center of Excellence?
A Center of Excellence (or competency center) is a team of experts who collaborate and communicate to support activities throughout the organization. It helps ensure you have the right talent on staff. But even more importantly, it leverages the skills of various departments to create a return on your investment in those areas.
It is often about connecting the right people to collaborate on adopting a specific tool. With Iteration Insights Power BI Governance and Deployment Kit, we define it in terms of monitoring, governing, and nurturing the usage of the tool.
Monitoring pertains to having visibility into the usage and activity of the tool. Governing is about managing the entities and security in Power BI Service while nurturing is about accelerating tool adoption and building out a data culture.
Keep in mind that a Center of Excellence can be either tool or topic-specific. In this blog, we apply the framework of a Center of Excellence to focus on Power BI adoptions and collaboration in an organization.
Why Microsoft Teams?
When building out a Center of Excellence, one of the necessary parts is creating a community portal that allows for collaboration. Any collaboration platform will work provided you can create channels or pages to organize the content that your users can access from the platform.
In our new remote world, Iteration Insights and many organizations utilize Microsoft Teams for work. As such, we are creating our Center of Excellence in Teams. Additional examples of tools that could work are slack, a SharePoint site, or a website (feel free to reimagine this framework to relate to the tools that your organization utilizes as a business communication platform).
There are just a few essential things to note when considering where to build your Center of Excellence.
First, it should be a place where admins can organize and provide content that business and technical users can access and a space that facilitates collaboration through a forum.
Second, it should integrate into where your organization completes its work. It is important for the adoption of the Center of Excellence that it is built in a platform that users are comfortable and familiar with using. If the community portal is built in an area that an organization does not often use, the adoption of the CoE will often be unsuccessful.
Channel Framework
Let's test it out! We have now defined what a Center of Excellence is and why we are using Microsoft Teams, let's see how a CoE in Microsoft Teams looks. Here is the channel breakdown as we have it.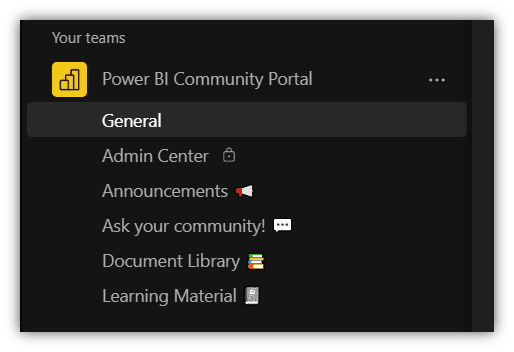 From our perspective, this is what should be included in a Center of Excellence. Keep scrolling below for a further breakdown of the purpose of each of these channels.

Team Name: Power BI Community Portal
Channel 1: General
Channel 2: Admin Center
Channel 3: Announcements
Channel 4: Ask your community
Channel 5: Document Library
Channel 6: Learning Materials
General
The first channel is the General Channel. When creating a Team, the general channel gets created automatically. It is not possible to rename or delete this channel.
We feel that the best use of this channel is to be the directory for the rest of the Center of Excellence. Typically, when a user accesses the CoE team, the General channel is the first page they land on.
This is the perfect place to welcome new users and populate information on how to utilize the team, where to go for a particular topic, and any other information that would acquaint them with the team.
It would educate users on the purpose of the community portal. You can also provide a generic FAQ section on common questions around the tool such as, how do I get a license or how do I download Power BI?
Admin Center
The Admin Center channel is the place for Power BI admins to communicate and collaborate on the administration and configuration of the Power BI environment.
Only Power BI admins should have access to this channel. This will allow for a space to discuss topics such as new processes, tenant settings, gateways applications, infrastructure errors, and more.
Announcements
Announcements would be a channel that all users can access but only admin users can post. This channel gives notice of any big events occurring with the tool.
Announcements featured in this channel can include changes in tenant settings with high impact on the business users, Power BI feature updates, changes to processes, and more.
Ask your community
The next channel is the Ask Your Community space. This channel is essentially a forum where users can post to get their questions answered.
Every Power BI user in your organization should have access to this channel to seek help when needed. Any user can respond and collaborate on a question to help provide answers.
To ensure that there is help when a question gets posted, an organization should have designated Power Users or Admins that are responsible for lending a hand on any issues.
Document Library
The Document Library is where users find documentation, templates, samples, or other relevant documents to Power BI.
Learning Materials
The Learning Materials channel will help direct your users to educational resources to learn about Power BI. If your organization has a training program, it can be linked to this channel. If you are creating a CoE for Power BI, here is a list of external self-directed learning resources that you can link to.
If you are interested in getting Power BI training for your team, Iteration Insights provides two-day Power BI courses that will get your users going in the right direction with Power BI.
How to Setup a Team
If you have never created a Team in Microsoft Teams before, you can follow this tutorial from Microsoft that takes you through the steps of starting a Team from scratch.
Make sure after you have created the team that you add in all of the Power BI users in your organization.
Conclusion
That is the basic structure of a Center of Excellence in Microsoft Teams. This outline is just a guide to get your organization started. Every firm will have unique needs when it comes to implementing a CoE in your environment so feel free to create or remove channels as you see fit. Please feel free to put in the comments your thoughts if there is a piece missing from our framework.